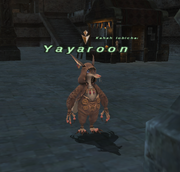 Yayaroon is Era's very own custom trade NPC for missing ISNM items. He is located at (J-7) in Al Zahbi.
To trade with Yayaroon, a player must have the required amount of Imperial Standing and then trade him exactly the corresponding amount of gil. Any other amounts or items will not work. Yayaroon will then take the Imperial Standing from you.
Yayaroon items will be removed as their natural methods of obtaining them are implemented into the game.
Staff may adjust IS values over time.
An item with an asterisk next to it indicates that it has been checked and some features of it are not currently implemented. Some items not notated may have issues, especially quirkier enchantments.
| Gil | Item | Imperial Standing |
| --- | --- | --- |
| 25 | Koga Shuriken | 10000 |
| 26 | Busker's Cape | 10000 |
| 27 | Immortal's Earring | 10000 |
| 28 | Busker's Earring | 10000 |
| 29 | Pirate's Cape | 10000 |
| 30 | Barbarossa's Moufles | 150000 |
| 31 | Templar Sabatons | 150000 |
| 32 | Dominion Ring | 150000 |
| 33 | Strike Subligar | 150000 |
| 34 | Immortal's Cape | 150000 |
| 35 | Deadeye Gloves | 150000 |
| 36 | Leech Scimitar | 150000 |
| 37 | Pirate's Earring | 150000 |
| 38 | Bitter Corset | 150000 |
| 39 | Requeim Flute | 150000 |
| 40 | Kawahori Kabuto | 150000 |
| 41 | Arakan Samue | 150000 |
| 42 | Crude Sword (?) | 150000 |
| 43 | Mensur Epee | 150000 |
| 44 | Wardancer | 150000 |
| 45 | Company Fleuret | 150000 |
| 46 | Magnet Knife | 150000 |
| 47 | Sacrifice Torque | 150000 |
| 48 | Tournament Lance | 150000 |
| 49 | Megrim Crown * | 150000 |
| 50 | Gobniu's Ring | 200000 |